Wed., July 30, 2014, 5:15 p.m.
Trailer On Spokane Zombies To Air
We've been wondering what this zombie show that's been filming in Spokane all summer is going to look like. And it sounds like tonight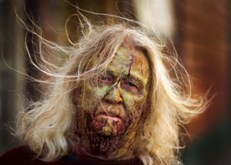 we might finally get a look. During the world premier of Sharknado 2 tonight on the Syfy channel, there's going to be a preview of Z Nation, which features real-life Spokanites as zombies. Z Nation is about a group of survivors of a plague that turned most of the world into zombies who are trying to get across the country to save the world (or something like that), is produced by the same company, The Asylum, that made the Sharknado movies/Bloglander. More here. (SR file photo: Special effects makeup artists spent hours transforming Phil Humphrey of Spokane into, a "Z Nation" zombie extra)
Question: Anyone willing to admit that they've been waiting for world premier of "Sharknado 2"?
---
---