Thu., July 31, 2014, 3:47 p.m.
Malloy: The New Press Secretary
Popkey will become a "real" press secretary the first time he has to write a news release, or commentary, that defends a position contrary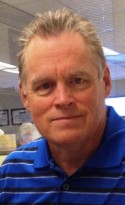 to Popkey's personal views. In this case, it could be a monthly occurrence. The hiring of Popkey provides some adjustments for Labrador. Listening to advice is not one of Labrador's strong points, but in this case it will pay for him to listen to somebody who has been around as long as Popkey. But Popkey's success will not be determined by how much Labrador accepts advice. It will be how he helps improves accessibility with the media. Labrador is treated like a king with the national media, but often is trashed by the Idaho media – and not just the editorial writers. Reporters can attest that getting interview time with Labrador is next to impossible/Chuck Malloy, Ridenbaugh Press. More here.
Question: Did you know that Idaho media has a rough time gaining access to Congressman Labrador?
---
---