THURSDAY, JULY 31, 2014, 8:38 A.M.
Mitchell Pledges To Serve Just 1 Term
Democrat Nels Mitchell said he will only serve one six-year term as a U.S. senator for Idaho if elected over his opponent, Sen. Jim Risch.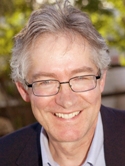 "In six years, I can accomplish a lot," he told the Daily News during a meeting Wednesday. "I can do a good job, and I won't be worried about running for reelection again." Mitchell, who is in the middle of an eight-day campaign trip in northern Idaho, said there are too many career politicians in Washington who place too much focus on being reelected rather than the pressing legislative issues at hand. They are also vulnerable to the pressures of special interest groups, which Mitchell believes have too much influence on legislation/Anthony Kuipers, Moscow-Pullman Daily News. More here.
Factoid: Nels Mitchell's full name is James Nelson Mitchell, but he's always been called Nels (from family surname in middle) by his family.
Question: What happened to all that political talk from a few years ago about term limits?
---
---