THURSDAY, JULY 31, 2014, 8:23 A.M.
New Spokane Hotel Will Be Grand
What has Harry Sladich been smoking? I felt compelled to ask after digesting his recent oddly timed and snarky remarks about the Grand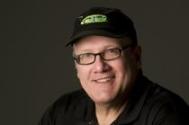 Hotel Spokane that Walt Worthy is constructing in the heart of downtown's convention district. Sladich doesn't think the hotel's brand affiliation – the Marriott's Autograph Collection – has the right sort of pizzazz that Spokane needs to lure gatherings of (harrumph, harrumph) consequence. "The bottom line is we needed a 'demand generator' and we simply did not get one," noted Sladich in our news coverage. "Meeting planners are simply unaware of what the Autograph Collection is." "Eeeeeeeeeee …" That's the sound a gnat makes when it gets all whiny and bothered. Sladich is a wheel with Red Lion Hotels/Doug Clark, SR. More here.
Question: Have you spent much time in Walt Worthy's other major downtown renovation, The Davenport Hotel?
---
---