Thu., July 31, 2014, 3:07 p.m.
USA Cat-Dog Divide Leans … Dog
We all know there are only two types of people in the world: cat people and dog people. But data from market research firm Euromonitor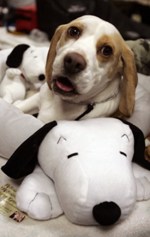 suggest that these differences extend beyond individual preferences and to the realm of geopolitics: it turns out there are cat countries and dog countries, too. Here in the U.S., slightly more households own dogs than own cats. But Euromonitor's numbers show that in terms of raw population, cats outnumber dogs to the tune of 2 million (the number is closer to 4 million, by the American Veterinary Medical Association's estimate). Why? One simple explanation is that cats are more compact. You can fit more cats in a house than you can, say, golden retrievers/Washington Post. More here. (AP file photo, for illustrative purposes)
Question: I hate to admit it but Washington & Idaho lean cat. Thoughts?
---
---