Mon., June 16, 2014, 10:33 a.m.
Army To Launch Bergdahl Inquiry
The soldier recently freed after five years as a captive of the Taliban knows nothing of the uproar that has gained traction in the weeks after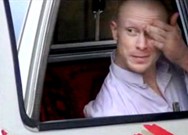 the United States elected to exchange five Guantanamo Bay detainees for his release. Sgt. Bowe Bergdahl of Hailey, Idaho has not had access to a TV, newspaper, or anything else that might shed light on the controversy surrounding him, military officials say. Reports seem to indicate Bergdahl walked away from his post willingly before being taken prisoner. He has entered Phase 3 of the reintegration process at Brooke Army Medical Center in San Antonio, Texas, where military doctors say their focus is on Bergdahl's mental health, not an investigation. That will likely change in the coming weeks as the Army launches an inquiry into the circumstances surrounding his disappearance, but for now, the flow of information is tightly controlled on both sides/KTVB. More here. (AP File Photo/Voice Of Jihad Website via AP video: Bergdahl awaits release from Taliban hands)
DFO: I was surprised to see a I-5 highway marker dedicated to Bergdahl's release as I entered California from Oregon two weeks ago. It'll be interesting to see how this plays out. Thoughts?
---
---