Mon., June 16, 2014, 11:26 a.m.
Barbieri Supports 'Moscow Mess'
State Rep. Vito Barbieri, R-Dalton Gardens, is praising the tumultuous GOP state convention in Moscow over the weekend as a "victory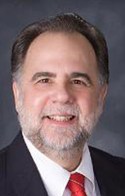 for taxpayers." Meanwhile, as GOP leaders and activists from the various factions struggle with the fallout of a convention that failed to elect a new chairman, adopt a platform, or pass any resolution or rules changes, former state senate Majority Leader Rod Beck, R-Boise, said, "I'm calling it the 'Moscow mess.'" Beck said, "None of this has been a clean way to do things." Barbieri, in a blog post this morning, said, "Taxpayers should be rejoicing that finally top down policy is no longer the norm in the Idaho Republican Party." He said he viewed the Ada County delegate selection for the convention as "knowingly in gross disregard of the Party Rules"/Betsy Russell, Eye on Boise. More here.
Question: So how would you characterize the Idaho GOP confab at Moscow over the weekend -- Victory for Taxpayers, 'Moscow Mess' or 'laughingstock'?
---
---