Mon., June 16, 2014, 2:49 p.m.
Dogwalk: Sacrifice Wasted
Along with a path of destruction are the beheaded bodies of civilians and soldiers of what was once Iraq. Within a week I'll wager it will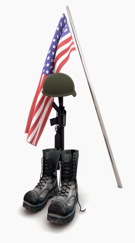 either belong to Iran if they get there in time, or ISIS, the Islamic extremists in pursuit of their Caliphate. Our President has said he has asked his national security team for options to help what's left of the floundering government. After options are determined he will decide which to follow. There is no one in the world that believes he will take any action before it's too late. It's already too late. Iraq, as we've long known it, is gone. Just as is Ukraine. I am both angry and sad. Sad for the civilian populations of both countries. Angry at our government for having abdicated it's position of leadership and even more angry for the ultimate slap in the face the situation in Iraq is to the men and women of our military who sacrificed so much/Dogwalk Musings. More here.
Question: Do you believe that Iraq will soon fall into the hands of militants -- and that the sacrifice of Americans will be wasted?
---
---