Mon., June 16, 2014, 8:48 a.m.
Independence Point Changes Eyed
While it's still in the speculative stage, Mayor Steve Widmyer hopes to begin transforming the parking lot at Independence Point into a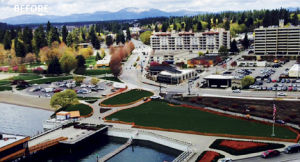 handicapped-accessible beach front. "This is all conceptual right now, and it still has to go through the council process for approval," he said last week. "But that is absolutely the most prime waterfront area in downtown. Why would anyone want to park cars there?" With council approval, Widmyer said the city could begin construction of the new park area as early as this fall. "We could do a lot of this work in-house," Widmyer said, adding that the cost figures have yet to be determined. "We have a pretty talented in-house team. We could do all of the hardscape work and get a private partner to help with the landscaping"/Jeff Selle, SR. More here. (Courtesy photo: city of Coeur d'Alene via Coeur d'Alene Press)
Question: Do you support changing the Independence Point area?
---
---