Mon., June 16, 2014, 4 p.m.
Malloy: An Opening For Balukoff?
Writing in the Ridenbaugh Press, former Statesman opinion editor Chuck Malloy sees possiblity that Tea Party conservatives might defect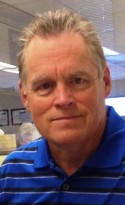 to Democrat A.J. Balukoff in an attempt to get the Republican Party back on track. Opines Malloy: "Democratic Gubernatorial Candidate A.J. Balukoff won't apply for membership into the tea party and there's no chance of him being a featured speaker at an Idaho Freedom Foundation conference. But if wins the governor's seat in November, the most conservative Idahoans could be the ones who will help put him there. As Idaho Freedom Foundation Director Wayne Hoffman sees it, electing Balukoff over Gov. C.L. "Butch" Otter makes sense from a conservative's perspective. It may be one way to put the Republicans Party on track." More here.
Question: Do you think the Tea Party will defect to Balukoff with designs on the 2018 gubernatorial campaign?
---
---