Tue., June 17, 2014, 1:01 p.m.
Johnson: The Great Gwynn
He certainly didn't look like much of a ballplayer. He lacked the classic physique of a DiMaggio or an Aaron, but with a bat in his hands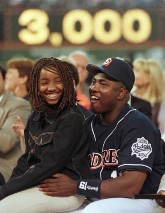 he became a baseball Toscanini, a maestro who could orchestrate his base hits with a flick of his wrists. Tony Gwynn was arguably the best pure hitter of a baseball since Ted Williams, or maybe since Ty Cobb. The baseball world and the rest of the world mourns his untimely passing. Statistics tell only so much of the Tony Gwynn story, but they tell a lot. Fifteen times an All-Star, a consensus first ballot Hall of Famer, 3,000 hits, a lifetime .338 hitter in an era when the long ball was too much celebrated. Think of this: 19 straight years batting at least .300. When Gwynn lead the National League in hitting in 1985 he went to the plate 675 times and struck out 23 times. Amazing/Marc Johnson, The Johnson Post. More here. (AP file photo: San Diego Padres' Tony Gwynn and daughter Anisha, then 14, celebrate Gwynn's 3,000th hit during a ceremony before a game on Aug. 13, 1999)
Question: Who do you consider to be the best living, former MLB player?
---
---