Tue., June 17, 2014, 5:14 p.m.
Peterson: I'm Still Idaho GOP Chair
Barry Peterson says he disagrees with the legal opinion offered to the Idaho GOP by attorney Jason Risch, and believes he's still the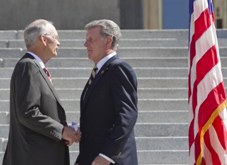 party chairman – and he's requested another legal opinion from attorney Christ Troupis on the matter. "I'm adopting the position that was tendered at the convention when the motion for adjournment was made," Peterson told Eye on Boise this afternoon. The convention chairman, 1st District Congressman Raul Labrador, conferred with his parliamentarians and announced that the result of voting for adjournment would be that "the party officers and the party position as to the platform etc. would be as they were constituted," Peterson said. "Overwhelmingly, the vote was carried"/Betsy Russell, Eye on Boise. More here. (AP file photo: Barry Peterson speaks to Gov. Butch Otter after the GOP Unity Rally May 21, following the GOPrimary election)
Question: Are you surprised that anyone would want to be chairman of the mess that is the Idaho GOP?
---
---