Wed., June 18, 2014, 4:07 p.m.
40 Reasons Old Age Not For Sissies
In an editorial in the Moscow-Pullman Daily News, Lee Rozen mentions the late Top 40s host Casey Kasem in writing an editorial titled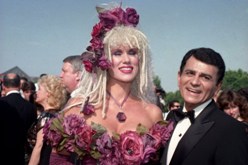 "40 reasons old age isn't for sissies." Opines Rozen: "Sudden events like accidents and heart attacks kill fewer of us now. Instead, like Kasem, we die more often of the diseases of extended wear and tear on body, mind and soul. These debilitating diseases, often chronic and lingering, gradually erode our ability to do the things we love to do, erode even our sense of self. Who does not fear that eventuality for themselves? Who does not fear that for their spouse or for their parent?" Full editorial here. (AP file photo: Casey Kasem and wife, Jean, arrive for 1987 Emmy Awards)
Question: Do you fear old age?
---
---