Wed., June 18, 2014, 5:14 p.m.
Dr. Oz Turns Cheek After Grilling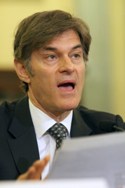 Give this to Dr. Mehmet Oz: He could have gone on a defensive rant today after being called a "snake-oil salesman" and worse before Congress on Tuesday, but he didn't. The celebrity surgeon, beloved by Oprah among others, posted a mild message on Facebook, and smartly avoided saying something along the lines of "I am not a snake-oil salesman!" He didn't get to be chairman and professor of surgery at Columbia University College of Physicians and Surgeons by being clueless about PR. Instead, Oz talked about how "pleased" he was about the hearing, during which he was lambasted for hyping dubious weight-loss supplement products. He semi-apologized for his overly "enthusiastic" language about such products, and promised to be more careful in the future/USA Today. More here.
Question: Are you a Dr. Oz fan ... and/or: Have you tried his weight-loss supplement products?
---
---