Wed., June 18, 2014, 11:53 a.m.
Eagles Land In Coeur d'Alene
Eagles from all over Idaho landed in Coeur d'Alene Monday for a week-long summit. The Coeur d'Alene "aerie" of the Fraternal Order of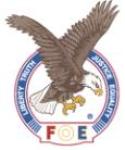 Eagles is hosting the annual Idaho State Eagles Convention which will feature a 1950s-style sock hop Thursday before ending with the installation of new statewide officers in a members-only ceremony Friday. The nonprofit charitable organization - which started in Coeur d'Alene in 1901 after its founding in Seattle in 1898 - and its women's auxiliary donated more than $21,000 to local charities for the 2014 fiscal year which ended May 31/Cynthia Magnus, Coeur d'Alene Press. More here.
DFO: I've belonged to only one service club in my life -- Kiwanis in Kalispell, Mont. It was a brief association. The newspaper required that department heads belong to a service club. In Coeur d'Alene, I have belonged to only one group, the 1985 (first year) Leadership Coeur d'Alene group. I guess I'm not a service club/community organization kind of a guy.
Question: Do you belong to a service/community organization? Tells us about it.
---
---