Wed., June 18, 2014, 11:34 a.m.
GONI Review: Mexican Food Factory
OrangeTV/Get Out! North Idaho noticed that the Mexican Food Factory had tacked an old SReview of his on the wall when he returned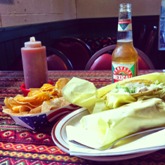 recently to sample the ambience and cuisine. However, he notes in a new online column, one of his old fave haunts might not like the new review. OTV writes: "I don't know, It just wasn't the same. Certainly everyone deserves a day off, and maybe that was the case, but the familiar friendly faces (mainly the owner and his buddy that worked there forever and ever) that I mentioned in my old review were nowhere around, replaced by a set of random teenagers who seemed diligent but detached, present in the room physically, but whose eyes and robotic demeanor led me to believe they were either stuck in a permanent daydream or had crossed that line with one too few cups of coffee for breakfast." Full review here.
Question: Have you ever returned to a favorite haunt of yesteryear, only to be disappointed?
---
---