Wed., June 18, 2014, 1:02 p.m.
Local Ex-Coroner's Book Worth Read
Harvard-educated Robert West, M.D., has a lot to say about the state's, and the nation's, deficiencies in the coroner system. Before you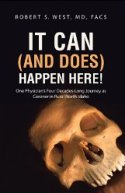 say "not interested," answer two questions. Are you a fan of murder mysteries, investigation TV dramas, or whodunnits? How about local history? If one of those is "yes," try Doc West's new book, "It Can (and Does) Happen Here," available through Amazon. It's a quick read (150 short pages), and more of a page-turner than the average, locally written nonfiction piece. ... Doc West does more than outline some of his more interesting cases as Kootenai County coroner from 1970 through 2011, subtly pointing out the gaping holes in the system along the way in his straightforward style. ... Yes, the infamous Joseph Duncan case is in there; even as a newsroom junkie with contacts, I learned more than the too-much I already knew. Longtime residents will recognize other painful cases, such as young Carissa Benway's/Sholeh Patrick, Coeur d'Alene Press. More here.
Question: Is this a book you'd like to read?
---
---