Wed., June 18, 2014, 8:28 a.m.
Priest's Gun Kills Fellow Priest
A Roman Catholic priest responding to a break-in at his downtown Phoenix church grabbed a handgun that police say ended up in the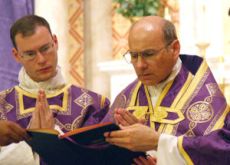 burglar's hands - and was then used to kill a fellow priest who tried to help. The Diocese of Phoenix has no policy on priests carrying guns, but the deadly burglary raised questions about the wisdom of clergy possessing weapons, no matter how dangerous their mission. The attack occurred after the Rev. Joseph Terra opened the kitchen door of the Mother of Mercy Mission rectory on the evening of June 11 to investigate noises in a courtyard. The intruder he found beat him with a metal rod, but the priest managed to retrieve a .357-caliber gun from his bedroom. He was unable to fire the weapon before the attacker grabbed it and used it to fatally shoot Terra's colleague, 28-year-old Kenneth Walker, according to court records/Associated Press. More here. (AP/Catholic Sun photo: the Rev. Kenneth Walker, left, and the Rev. Joseph Terra perform a Mass in Phoenix)
Question: Should priests/ministers pack guns?
---
---