Wed., June 18, 2014, 8:38 a.m.
Regan: Stand With Me
In an op-ed column in the Coeur d'Alene Press, former Coeur d'Alene school trustee Brent Regan provides background information re: the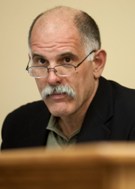 controversial role of the credential committee (on which he served) in refusing to seat certain delegations to the Idaho GOP convention in Moscow. In the end, Regan writes: "I was very proud of our Kootenai County delegation and the majority of the other delegates that joined us to stand for the rule of law, fairness, liberty, honesty and equality of opportunity and I commend all of the delegates for their willingness to engage in the labors required of freedom. As for party unity, I am willing to stand with anyone who is willing to stand with me on the Republican Platform and work together to preserve and protect the legacy of freedom entrusted to us for generations yet to come." Full op-ed column here.
Question: Am I the only one who finds it odd that the only delegates who have anything good to say about the Idaho GOP convention come from the Tea Party wing of the party?
---
---