Thu., June 19, 2014, 1:27 p.m.
Ice Cream, You Scream
It was wedding bells that brought Katy and Jim Byrnes to the ice cream truck business. The two – who both have children from previous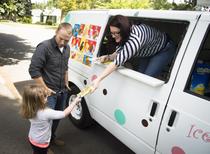 marriages – wanted to find a way to pay for their wedding three years ago. Jim Byrnes had been thinking about buying an ice cream truck since his kids were little. And so the couple started Sweet & Savory, an ice cream truck that travels through neighborhoods, small towns and even special events. The two found an old white van and modified it. They turned the passenger seat around for easy access to the freezer, which is hooked up to a converter for power. They got a business license and an itinerant vendor's license/Lisa Leinberger, SR (SR photo by Colin Mulvany: Katy Byrnes hands a SpongeBob Popsicle to Norah Spilker on Spokane's South Hill Monday)
Question: I can't remember the last time I bought ice cream from an ice cream truck. Can you?
---
---