I rearranged my daily lunch walk to cut through the new Centennial Trail Plaza between the Coeur d'Alene Resort and the resort mall (significant upgrade) and lap McEuen Park. I estimate 100 children were playing on the new McEuen Park playground and adjacent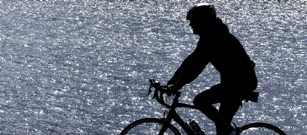 splash pad (with parents watching nearby), despite overcast skies. About a dozen children were playing at the older Fort Sherman Park in City Park to the west of the resort. The walkways were open to the public throughout the park (although work continues near the Veterans Memorial Plaza and the grass for the new natural amphitheater remains off limits. The only area not in use was the outdoor basketball courts. (Then, the City Park courts weren't being used either.) I spotted Recreation Director Steve Anthony out for a walk in the park, and yelled out: "Where's the softball fields." He had a pained expression until he saw who had yelled. Steve told me that the city is going to put a new roof on the Memorial Field grandstand in two weeks or so. We walked together for a bit. We encountered Connie Chalich on the street. She's the mother of Chad Chalich, quarterback for the UI Vandals, who'll kick off their season at "The Swamp," the University of Florida's famous football field in late August. That'll be a rough game. But I told her that I hope this is the year that the UI football program will begin turning things around/DFO.
Question: What do you think of the new Centennial Trail Plaza?