Fri., June 20, 2014, 3:47 p.m.
Carlson: An Idaho Gem
Somewhere down the road a future Idaho governor is going to take a page from a President's Book of Plays, and is going to create,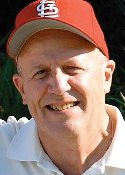 maybe even endow, an annual award to an Idaho writer, artist, composer, or outstanding college teacher. Let's call it the "Gem" Award, and attach a cash component of say $100,000. Ask the Idaho Humanities Council (The Council has established a similar award, but no money) to submit three names to the Governor. Yes, Idaho already has the "Esto Perpetua" award that goes annually to the person or organization that during the previous year has best promoted Idaho heritage. It is awarded by the Idaho State Historical Society. While prestigious it too carries no monetary award. My nominee for the First Gem Award would hands down be Idaho's State Historian, and one of the state's finest writers, Keith Petersen/Chris Carlson, Carlson Chronicles. More here.
Question: Who do you regard as an "Idaho gem"?
---
---