Fri., June 20, 2014, 4:04 p.m.
Dems Launch Confab, Seat Delegates
Idaho Democrats began their two-day convention Friday with optimism, a two-page draft of a platform — and a ready supply of jabs at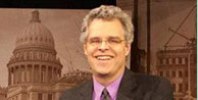 Republicans. Democrats are gathering at a Moscow convention center this weekend, a short walk from the Kibbie Dome on the University of Idaho campus, where the Republican convention disintegrated in discord just six days earlier. The sense of timing and juxtaposition was not lost on Democratic leaders. The Democrats opened business Friday with what is normally a routine exercise: seating convention delegates. But this same procedural task hung up the GOP convention, as party leaders moved to disqualify delegates from Ada, Bannock and Power counties. "And we've already accomplished what no one else could," state Democratic chair Larry Kenck said, after delegates loudly and unanimously voted to seat all the delegates who showed up for the convention. "Congratulations"/Kevin Richert, IdahoED NEWS. More here.
Question: See, it's not that hard to seat delegates after all. Thoughts?
---
---