Mon., June 23, 2014, 8:54 a.m.
Man 'Critical' After Shootout w/Police
Julian Mosher was on his way home from a friend's house early Sunday when he came upon a standoff on Interstate 90 at Post Falls.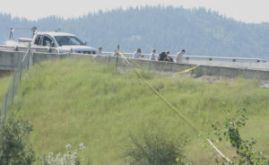 "There was a whole bunch of cop cars and the cops had their guns drawn," said the Post Falls High student, who was the passenger inside a vehicle. "It was really intense." Mosher said he could hear police trying to talk a person out of a vehicle — the standoff lasted about 45 minutes — then he captured gunfire on video that he posted on Facebook. At least 40 shots were heard in the one-minute video. "I counted more than 50," Mosher said. Law enforcement said the male who led police on a pursuit in a white pickup was transported to Kootenai Health in Coeur d'Alene due to gunshot injuries and was in critical condition on Sunday. No law enforcement personnel were injured/Brian Walker, Coeur d'Alene Press. More here. (Photo by Brian Walker: Investigators search for evidence on Interstate 90 at Post Falls on Sunday morning after an officer-involved shooting at the westbound Spokane Street onramp)
Question: Izzit just me -- or are these types of encounters becoming too frequent in the region?
---
---