Tue., June 24, 2014, 11:10 a.m.
Ah, But The Strawberries
Here's the 6th in a series of posts from Marc Johnson/The Johnson Post re: his current trip through Europe. This report is from Paris,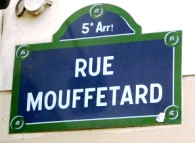 France: "I have been thinking about – and eating – strawberries. I bought my strawberries last weekend from a fruit stall along the Rue Mouffetard, an ancient street in the Latin Quarter of Paris that is almost totally about food with a little wine thrown in. I may have had better strawberries, some bought from Oregon growers are pretty great, but as strawberries go mine serve as not only a delicious dessert, but as a metaphor of sorts for all food in food lovers France. More here.
Question: Are you a foodie?
---
---