Tue., June 24, 2014, 9:19 a.m.
Balukoff Touts Poll In Race w/Otter
Democratic challenger A.J. Balukoff is pointing to a recent Rasmussen Reports poll that shows Gov. Butch Otter's popularity falling 10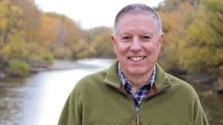 points from his 2010 re-election bid. The Rasmussen poll released early this month has Otter up 50 percent to 36 percent over Balukoff, president of the Boise school board. In March 2010, a Rasmussen survey put Otter at 60 percent. "That's a 10-point drop!" writes Balukoff's campaign manager, Marie Hattaway, in the overheated style common to the fundraising game. Hattaway says Balukoff "must raise" $10,000 in contributions by June 30. "What's more impressive?" Hattaway continues. "Our internal polling shows that when voters learn about A.J., the race becomes a dead heat — it's ours to lose and that's why we need you right now"/Dan Popkey/Idaho Statesman. More here.
Question: Do you think Tea-publicans would rather vote for Balukoff than Gov. Butch Otter?
---
---