Tue., June 24, 2014, 11:41 a.m.
CDC Campaign Uses Shock Ads Again
A government campaign designed to scare, shock and disgust smokers out of their deadly habit is back with several new ads. The latest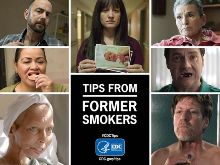 "Tips From Former Smokers" ads from the Centers for Disease Control and Prevention, released Tuesday, feature two middle-aged people who lost their teeth, a man with a hole in his throat and a woman who had a premature baby, all as a result of smoking. The campaign also once again features Terrie Hall, a North Carolina woman who lost her larynx to oral and throat cancer. Her previous videos for the CDC have been seen more than 2 million times, the most of any in the campaign, says Tim McAfee, director of CDC's office on smoking and health/USA Today. More here. (Photo: CDC)
Question: What prompted you to give up smoking?
---
---