Tue., June 24, 2014, 9:08 a.m.
Clark: Hunk Mug Shot Hubbub Crazy
There was a time when the fabulous faces of tomorrow were discovered in coffee shops. Now, thanks to the Internet, the recipe for fame is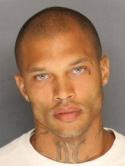 to be a punk and get booked into jail. At least that's the celebrity route taken by Jeremy Meeks, a former Spokane criminal, now known as "Dreamy McMug Shot" by his ever-swelling legion of online fans. The hubbub is over the photograph taken the other day in Stockton, California, while the 30-year-old was being booked into jail on weapons and gang-related charges. Meeks' mug shot soon became a viral sensation. A Los Angeles Times story noted a few of the now-thousands of reactions: "Omg he's hot!!" "He's too fine to be a criminal. I've got $10 on his bail." "He's too pretty to go to jail … yet again"/Doug Clark, SR. More here.
Question: Is this country really this shallow -- to go gaga over a con's mug shot?
---
---