Tue., June 24, 2014, 2:42 p.m.
Fugitive Of The Week: Marcrum
The North Idaho Violent Crimes Task Force (NIVCTF) is seeking information leading to the apprehension of Bryant Edward Marcrum.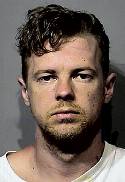 Marcrum is being sought based on a Kootenai County felony warrant charging Marcrum with Lewd Conduct with a Minor Under Sixteen. This is a $25,000 bond warrant with Western United States extradition. Marcrum is a white male, 33 years old, 6'3 tall, 190 lbs with blue eyes and blonde hair. Marcrum was last known to be living in Coeur d'Alene. Anyone with information regarding this subject or other fugitives being sought for violent crimes should call the NIVCTF at 208-665-4455. The identity of callers will remain confidential and reward money may be available.
---
---