Tue., June 24, 2014, 4:49 p.m.
Tricked-Out Trailers Highlight Event
When visitors step into Mignon Whitt's 1971 Shasta Compact travel trailer, they enter a bright new world. Each nook and cranny is utilized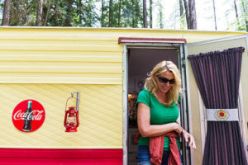 for function or fashion, with deep, summer sky blues and vibrant colors punctuating the cozy retro and Hawaiian island decor. "I always thought of myself as an island girl because I love Hawaii and I love the sun," the Athol resident said Saturday afternoon while showing off her colorful "Mig Mobile." "And I love Hawaii because of the bright colors." Whitt's tricked-out, vintage travel trailer was one of more than 150 various trailers that were on display during the Sisters on the Fly's annual Northwest Gathering at Lutherhaven, a five-day camping event the sisters enjoy every summer. The gathering rotates between Idaho, Washington and Oregon. This year's retreat offered activities such as line dancing, evening bonfires and auctions to raise money for Casting for Recovery/Devin Heilman, Press. More here. (Press photo by Shawn Gust: Lindy Cislini, a Rockford Bay resident, tours a 1967 Cardinal 16-foot Coca-Cola-themed trailer)
Question: Have you ever taken a road trip involving a travel trailer?
---
---