Wed., June 25, 2014, 8:36 a.m.
Brussels Sprout Gaining Respect
You know Brussels sprouts are starting to get hip when they hit "Portlandia." In its recent "Celery" episode, the cable comedy series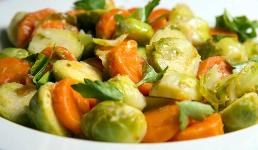 featured this exchange between vegetable brokers: "Brussels sprouts are back – don't know how you did it, Bill." "They sell themselves. … Just wanted to announce that we've just gotten an account with Virgin Airlines for Brussels sprouts to be featured on the menu on their flights as a dessert. Honey and maple syrup." Actually, that's no joke. Well, the dessert part, maybe, but maple syrup is among the trendier ingredients appearing in Brussels sprouts recipes these days, along with the likes of figs, pine nuts and, of course, bacon/Rick Bonino, SR. More here. (SR photo by Colin Mulvany: Brussels sprout, sautéed in butter, lemon and ginger)
Question: When did you last eat Brussels sprouts?
---
---