Wed., June 25, 2014, 8:13 a.m.
Stickman Enjoys His B-17 Ride
Stickman: It took off around 5:15 and headed towards Post Falls. It's the pilot's discretion where to fly, mostly because there was a very big dark cloud over us that looked like a thunderstorm. Someone mentioned he might go north towards Rathdrum and such. He didn't.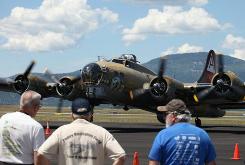 And I'm glad.He turned south and went over the lake all the way to the end and came back and flew right over my house. Nothing better than that. It was truly a thrill. The whole time it was hard to imagine ten young boys in there flying dangerous missions over Germany. There was 7 of us I think, not counting the pilot, co-pilot and a man who told us what to do and helped us. After take-off, which was extremely loud, we were all allowed to walk around the plane to various locations in the plane. It helps if you are a small man. I managed, though I am 6'2". There was a small boy with us flying with his grandfather, and it was like he was on an amusement ride. Everything fascinated him. He will surely remember that for the rest of his life, like I will, as they won't be around much anymore. Full comment here. (File photo: Duane Rasmussen)
Thoughts?
---
---