Thu., June 26, 2014, 8:56 a.m.
Caribou Protections Being Revised
Caribou worldwide share similar features – branching antlers, stocky bodies covered with hollow hair that insulates against the cold, and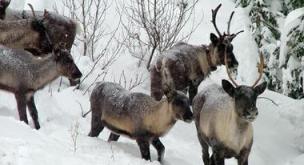 snowshoe-like hooves. Herds across North America and northern Europe all belong to a single species, Rangifer tarandus. But caribou in the Selkirk Mountains of North Idaho, northeast Washington and interior British Columbia have a trait that sets them apart from other caribou. When the winter snow sets in, they head to inhospitable ridge tops, where they spend the winter eating lichens that grow on 250-year-old Engelmann spruce trees. Other caribou stay in the valleys. Because of that unusual behavior, the South Selkirk herd deserves protection as a distinct population under the Endangered Species Act, U.S. Fish and Wildlife Service officials said Wednesday at a Sandpoint open house/Becky Kramer, SR. More here.
Question: Do you agree/disagree that the Selkirk Mountain caribou herd needs protection?
---
---