Thu., June 26, 2014, 8:19 a.m.
Clark: World Cup Needs More Biting
If you're like me, you'd rather watch water evaporate than World Cup soccer. Which means that all I know about what's going on in the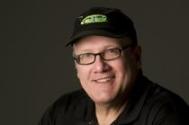 world of the cup is that some player from Uruguay bit an Italian dude during a match the other day. But was that really so bad? It certainly was to the sports commentators and soccer purists. I caught some of them on the tube yesterday. They were all gnashing their teeth over this bite now seen 'round the world. In my view, however, occasional chomping could be a real boost for non-soccer fans like me. As in guys who are put off by all the endless running around, the low scoring and matches that end in disappointing ties. Why not biting?/Doug Clark, SR. More here.
Question: Do you agree with columnist Clark that the biting incident in the Uraguay-Italy match made the World Cup more interesting?
---
---