Thu., June 26, 2014, 4:45 p.m.
CPD Seeks Transient In Strangling
Coeur d'Alene Police detectives are actively searching for Robert Gerald Davis, 44, a transient known to frequent the Coeur d'Alene and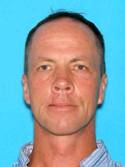 Eastern Washington area, for an attempted murder charge. Davis is 6 ft, 200 lbs., with brown hair and hazel eyes. He is missing two teeth, has a scar on his upper lip, a scar above right eye, and tattoos on his chest and left wrist. Detectives secured a warrant for attempted murder and burglary after a 54 year-old female reported he strangled her. The victim said on June 21st at approximately 7:00pm Davis entered her travel trailer and attacked her. Her trailer was parked at the time in the 100 block of S. 23rd St. The victim said she fought back but Davis overpowered her and she went unconscious from the strangulation. More below.
She said she regained consciousness a few minutes later and was on the ground outside her trailer. A witness in the area saw the suspect flee on foot from the trailer. Davis and the victim are acquaintances, and he had been at her trailer earlier in the day.
Davis is considered to be a dangerous individual. Bond has been set on the warrant for $100,000 (One-hundred thousand dollars). Davis is known to frequent transient camps and facilities that serve the homeless population. Anyone with information on the whereabouts of Robert Davis is asked to call the Coeur d'Alene Police Department at 208-769-2320/Sgt. Christie Wood, CPD.
---
---