Thu., June 26, 2014, 2:12 p.m.
'Nickelback' Controversy Spreads
Dylan Swinford turns 23 today, and it's safe to say Nickelback won't be on any birthday party playlists. Swinford and 22-year-old Riker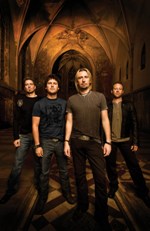 Morrow, both of Coeur d'Alene, were detained last Friday by Kootenai County sheriff's deputies over a potential misunderstanding between the words "nickel sack" and "Nickelback." A YouTube video of the incident, recorded by Morrow, has had more than 26,000 views. (See the video on cdapress.com: Was that 'nickel sack' or Nickelback,' boys?) In text messages with The Press on Wednesday, Swinford said the two aren't quite ready to talk to anyone about the incident yet. But one woman who called herself an "extra mom" to the duo was quick to rush to their defense/Keith Cousins, Coeur d'Alene Press. More here. (Promotional photo of Nickelback band)
Question: Had you ever heard of Nickelback before this controversy?
---
---