Fri., June 27, 2014, 9:05 a.m.
The Day The World Changed Forever
We are not always able to precisely identify the exact moment when some overarching event changed the world. History is rarely so tidy.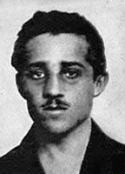 December 7, 1941 was, at least for Americans of a certain age, a defining date when a world war came to U.S. soil. September 11th has defined a new world in which western modernity seems destined to confront perpetual conflict with radical Islam. Still, there can be little debate that the most certain defining date in the history of the modern world occurred precisely 100 years ago – June 28, 1914 – on a street in Savajevo. Gavrilo Princip, a young Serbian – that's him in the photo – fired five shots at the archduke of Austria-Hungary and his pregnant consort, while they traveled in an automobile on the streets of Sarajevo. Princip, armed with a Browning semiautomatic pistol, may or may not have intended to, but by murdering Franz Ferdinand and Sophie he lit the sparks that ignited The Great War. The world has never been the same/Marc Johnson, The Johnson Post. More here.
Question: Do you know much about World War I history?
---
---