Fri., June 27, 2014, 10:33 a.m.
Idaho 2nd In Wine Consumption
June is Idaho wine month, but there's no need to tell Idahoans that. According to the National Institute on Alcohol Abuse and Alcoholism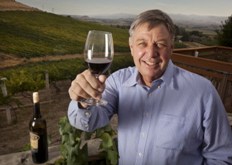 report on alcohol consumption, Idaho is second in the nation for the amount of wine consumed per capita. And local wineries are benefiting from those wet whistles, especially during June. Gregg Alger, of Huston Vineyards, saw a 35 percent growth in sales in June over last year, adding Idaho Wine month has taken off. "People are finding our wines and saying, 'this is good, this is good stuff,'" Alger said. Idahoans, those 14 years old and older, drink 8,653,000 gallons combined each year. Only residents in the District of Columbia drink more wine than Idahoans per capita/Justin Dalme, Idaho Press-Tribune. More here. (AP/Statesman file photo: Ron Bitner, a southwest Idaho grape and wine producer, enjoys a glass of Shiraz-Cabernet Sauvignon at his vineyard near Marsing)
Question: Which alcoholic beverage do you prefer -- wine, beer, liquor (or none at all)?
---
---