Fri., June 27, 2014, 8:24 a.m.
Ironwoman Holding Cancer At Bay
Roughly 2,300 will line up Sunday for Ironman Coeur d'Alene but it's a safe bet only one, Wendy Chioji, pictured, was receiving radiation treatments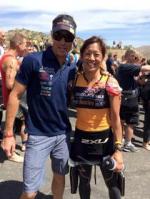 for Thymic carcinoma seven months ago. It's also a safe bet that Chioji will be the only one leaving in a few weeks to climb Mount Fuji with her 74-year-old father and guiding a cross country cycling fundraiser later this summer. Did we mention Chioji scaled Mount Kilimanjaro 10 weeks after her last radiation treatment? "All kinds of opportunities come up," Chioji said, "and you just have to take advantage of them." Chioji is all about embracing opportunities, living in the moment, meeting people, raising cancer awareness and doing her best whenever she suits up for an Ironman, marathon or climb/Jim Meehan, SR. More here.
Question: Do stories like this encourage you to rise above your circumstances?
---
---