Fri., June 27, 2014, 8:43 a.m.
Jeers To 'Solomonic' Ex-GOP Chair
In his weekly Cheers & Jeers column, Opinion Editor Marty Trillhaase of the Lewiston Tribune offers Jeers to -- former GOP chairman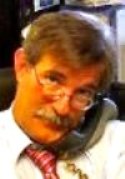 Barry Peterson: "The GOP chairman may want to attend remedial Sunday school. Peterson has called for an Aug. 9 GOP Central Committee meeting to resolve his status as party leader. In so doing, he likened himself to King Solomon. "It seems to me that much can be drawn from the story of the two mothers who brought their claims before King Solomon," Peterson said. In the story, the two women competed for one living child. Solomon offered to split the child in two. The woman who found that abhorrent was indeed the child's mother. Which part is Peterson playing? Wise, impartial King Solomon? Or the spiteful woman who would have been satisfied to take half of a dead child?" Full Cheers & Jeers column here.
DFO: 1st item of Cheers & Jeers column applauds former Bonner County commissioner Cornel Rasor for acting as one of the few grownups involved in the Idaho GOP convention.
Question: Do you have a Cheer or a Jeer for anyone today?
---
---