FRIDAY, JUNE 27, 2014, 1:02 P.M.
Midtown Biz Offers Kombucha On Tap
Around the world, it's been given many glowing titles: Elixir of Life, The Divine Tsche, Champignon de longue vie (mushroom of long life)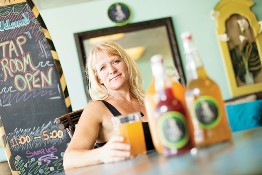 and Tea of Immortality. Kombucha — a cultured, fermented tea — has been around thousands of years, originating in the East and moving to Western countries in the past century, being extolled along the way for qualities including preventing disease and reversing aging. "There's been a lot of different claims as far as health benefits, but people have to make their call on what it does," says Heather Threadgill, who has been drinking kombucha for 10 years. Threadgill says she drinks it three times a day on average, alongside a diet of mostly unprocessed foods and a triathlon lifestyle. Last Tuesday, she opened a taproom called Bare Culture Kombucha in the front of her brewery in Coeur d'Alene, complete with funky colors, laid-back, beach-y décor, bar and table seating and raw food bars/Jo Miller, Inlander. More here.
Question: Have you ever consumed Kombucha?
---
---