Fri., June 27, 2014, 4:43 p.m.
Guv Sends Kumbaya Letter To Donors
Gov. Butch Otter just sent this why-can't-we-just-get-along letter to campaign donors:
Let's stop looking for reasons to disagree. Let's stop looking past good Republicans in pursuit of perfect Republicans. Idaho Republicans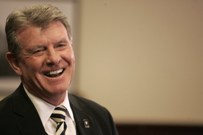 have been incredibly successful at winning elections for the past 20 years. That is due in large measure to the great work of volunteers like you and the unanimity of opinion we have enjoyed on most major issues of the day. Now that unanimity is very publicly unwinding – not for the most part in regard to public policy, but rather over our own party processes. Our differences are relatively small and transitory. Our similarities are great and transcendent. As Senator Risch put it so well at our recent convention in Moscow, if you really want to understand the differences between Republicans and Democrats, go to Washington, D.C. But those differences hit closer to home the more we play into the hands of those with values and priorities so starkly at odds with ours in Idaho. More here.
Question: Doesn't seem like the governor is asking anyone to bend over. What do you think?
---
---