Fri., June 27, 2014, 1:10 p.m.
Peterson: 'Party Wouldn't Bend Over'
Gov. Butch Otter engineered a "coup" to control the Idaho Republican Party apparatus in order to punish opponents of Otter's Your Health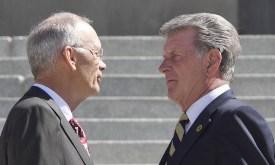 Idaho insurance exchange, GOP Chairman Barry Peterson said Friday. Peterson said his informing lawmakers of the party's formal opposition to the exchange is the root of their differences. "In so doing, we've incurred the wrath of the governor," Peterson told 580 KIDO's Kevin Miller. "From my perspective, and it's mine alone, this onslaught is because the party would not bend over relative to the health care exchange"/Dan Popkey, Idaho Statesman. More here. (AP file photo, of Peterson shaking hands with Otter after Idaho GOPrimary in May)
Question: "Party wouldn't bend over" for Gov. Butch Otter? Is former Idaho GOP chairman Peterson a bit too crude?
---
---