Mon., June 30, 2014, 8:36 a.m.
Boomers Not Ready For 'The Home'
Many baby boomers aren't ready for retirement – much less a retirement community. And some in this independent and free-spirited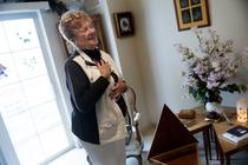 generation are indignant about even discussing the idea of someone so young moving to a community of, well, old people. "Too busy working to think about the 'home' and my mother says she isn't ready either," wrote Becky Christner in response to a recent Facebook inquiry about whether baby boomers are ready for the retirement home. Others were more blunt in their distain of thinking anybody in the 50 to 68 age range would consider living in an independent retirement community. "Your post is really not even cool," wrote Joanna Musulman, 55, a local actor and model who wrote she was too busy rock climbing, rafting, mountain biking, hiking, skiing, gardening, making soap, making wine and raising her children/Erica Curless, SR. More here. (SR photo by Tyler Tjomsland: Barbara Wolfert, 78, gives a tour of her apartment at Garden Plaza in Post Falls)
Question: When will you know it's time to move into a retirement community?
---
---