MONDAY, JUNE 30, 2014, 5:01 P.M.
Lake City Family Goes Car Free
Eight years ago, Geoff Carr and Mollie Murray's 2003 Kia Spectra was totaled in a parking lot collision. They sold it for scrap, and their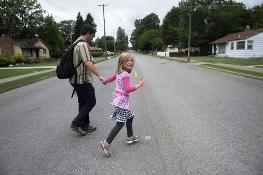 driveway has been empty ever since. The couple and their young daughter commute by foot, bike and bus. Relinquishing car ownership isn't a practical choice for everyone, the Coeur d'Alene family acknowledges. But they think many Inland Northwest residents could integrate car-free trips into their lifestyle with minimal fuss. "A lot of it comes down to planning," said Murray, 33. When they bought a house, the family looked for a residence within 2 miles of North Idaho College, where Carr, 37, is a journalism instructor and Murray is studying environmental science/Becky Kramer, SR. More here. (SR photo by Kathy Plonka: Viva Carr, 7, watches for traffic Friday as she crosses Harrison Avenue with her dad, Geoff, in Coeur d'Alene)
Question: How long could you go without use of your car?
---
---