A family-friendly sports bar and grill by day and a music venue by night, The Rocker Room has opened downtown at 216 E. Coeur d'Alene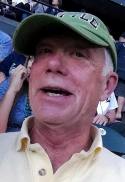 Ave. Formerly the Rendezvous, Torch and Country Club CdA, the huge place (capacity 350) includes two 15-foot TV screens, a stage with performers' sound system, pool tables, shuffleboard table, pop-a-shot basketball, Golden Tee, Big Buck Hunter and a corn toss. Now you add the 20 beers on tap, many other drinks, and a starters-meals-dessert and kids' menu developed by Jason Rex of the Scratch Restaurant. Specialty nights include Keg Night on Wednesday, D.J. Jake Barker on Thursday and live bands on Friday and Saturday. Although usually opening at 4 p.m., starting in late August The Rocker Room will open at 9 a.m. Saturday and Sunday for college and pro football and a buffet breakfast. Owner Dave Pulis also has the Moose Lounge/Nils Rosdahl, Coeur d'Alene Press. More here.
Question: Gee, can you think of anything we might need more in downtown Coeur d'Alene than a new bar?