Mon., March 3, 2014, 1:27 p.m.
Johnson: Oscar Takeaways
Marc Johnson/The Johnson Post offers a number of insightful takeaways from the Academy Awards, including: "Oscar host DeGeneres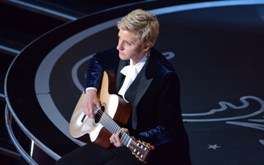 mostly mostly left me longing for Bob Hope or Johnny Carson. The role of Oscar MC requires the skills, generally speaking, of a late-night talk show host – sharp, topical and (mostly) clean jokes, self deprecation, ad-libbing ability, and a relentless focus on poking fun at the absurdity of the whole show. Next year give me Jimmy Fallon or even Kevin Spacey. Classy guys (or gals) who get the joke and can make one. Much more here. (Photo by John Shearer/Invision/AP)
Question: I like the selfie and pizza delivery ideas. But wasn't bowled over by DeGeneres' role as host. How about you? Any other takeaways?
---
---