Tue., March 4, 2014, 8:21 a.m.
Gold Star Speaks To Food Safety
When I go out to eat, I look for a Panhandle Health District gold star on display by the establishment's cash register or in the window. The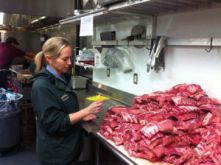 giant gold star is part of PHD's Award of Excellence in food safety. The award tells me that the restaurant or food vendor I'm visiting sailed through its annual food safety inspection with no violations. The year of the inspection is on the award. So are these words, "For exceptional food safety and sanitation standards demonstrated by receiving no health code violation during the annual inspection." Considering that 48 million cases of food-borne illness were reported throughout the nation last year, that gold star is a sign to me that food safety is a priority with a food establishment. Only 20 food-borne complaints were recorded in the five northern counties last year/Cynthia Taggart, Panhandle Health District. More here. (PHD photo: Kristina Keating, an environmental health specialist for Panhandle Health District, checks the temperature of meat in a Coeur d'Alene food establishment)
Question: Do you ever look for a gold star award at a restaurant, or other documentation that the food served there has passed inspection?
---
---