Tue., March 4, 2014, 8:39 a.m.
New UI Prez Focuses On Enrollment
University of Idaho President Chuck Staben has been officially on the job for four days, but he's already planning to focus on boosting this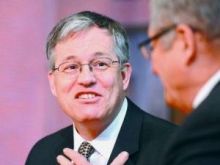 fall's enrollment. Staben told UI faculty, staff and some students during his first university address as president that they could expect to see strong efforts put toward recruitment for the Moscow campus, particularly of Idaho students. "I invite your ideas on how we can do this even more effectively," Staben said Monday afternoon in the Administration Building auditorium. The State Board of Education selected Staben as UI's 18th president in November to replace former UI President Duane Nellis, who left campus last year to lead Texas Tech University. Staben, 55, is the former provost and vice president for academic affairs at the University of South Dakota and officially took the reins at UI on Saturday/Elizabeth Rudd, Lewiston Tribune. More here. (Steve Hanks' photo for Lewiston Tribune: University of Idaho President Chuck Staben has a laugh with Idaho State Board of Education member Bill Goesling prior to being introduced at UI Monday)
Question: What do you think is UIdaho's greatest need now?
---
---