Thu., March 6, 2014, 11:07 a.m.
Collector Preserves Gen's Records
With apologies to Huey Lewis, the heart of rock 'n' roll is not the beat. Not around here, anyway. In Spokane, the heart of rock 'n' roll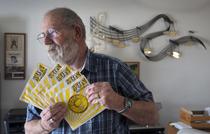 thumps inside the chest of a trim, gray-bearded widower who exudes a youthfulness that is at odds with his 72 years of living. Gerry Giles is his name. A few years ago, Giles retired from KREM-TV after 39 years as an engineer. Today? Let's just say Giles lives a quiet life somewhere in south Spokane, and if I got any more geographically specific I'd have to kill you. That's because of Giles' hobby or obsession or whatever you want to call it. In short, Giles has amassed every 45 to hit the Top 40 charts from 1954 to the year 2000/Doug Clark, SR. More here. (SR photo: Dan Pelle)
Question: Do you have any old 45s or vinyls?
---
---